Signing up to Host or co-Host a Community Discussion or Teaching Demo
The Carpentries uses Calendly to manage scheduling of Community Discussion sessions and Teaching Demos. Four times a year, Discussion Hosts and Instructor Trainers will be asked to slot in their availability. Additionally, custom forms are used for Trainers to schedule Instructor Training events.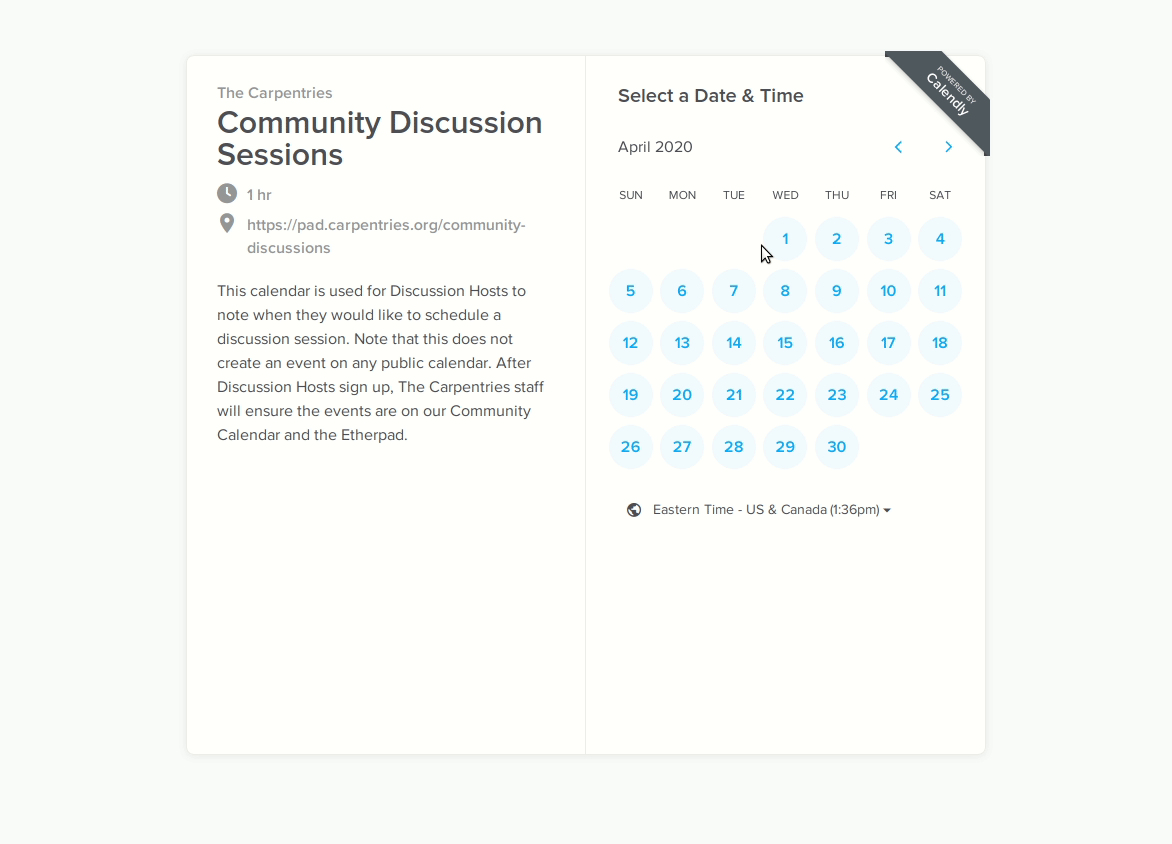 For the period

1 Jan - 31 Mar
(Q1)

1 Apr - 30 Jun
(Q2)

1 Jul - 30 Sep
(Q3)

1 Oct - 31 Dec
(Q4)

Signups open on

15 Nov

15 Feb

15 May

15 Aug

Responses
due by

30 Nov

28 Feb

31 May

31 Aug

Calendar
published by

7 Dec

7 Mar

7 Jun

7 Sept
Once Discussion Hosts and Trainers have scheduled themselves in for a Community Discussion session or Teaching Demo via Calendly, The Carpentries Core Team will ensure that these events appear on the relevant Etherpads (Community Discussions or Teaching Demos) and on the Community Calendar.
This system aims to build these sessions around the Host or Trainer availability. The community of Hosts and Trainers should represent a good cross-section of the general Carpentries community, and should offer the broader community a better option of sessions to attend.
Event Cancellations
We recognise that even after scheduling their own events, Hosts or Trainers may have conflicts and may need to cancel a scheduled event. If this happens, please contact community@carpentries.org for Discussion Sessions or instructor.training@carpentries.org for Teaching Demos and Instructor Training as soon as possible so a Core Team member can ensure another Host is able to cover this event.